How working with me can $AVE you money...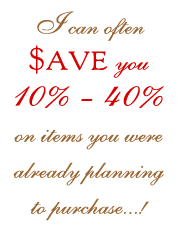 he way the interior design profession operates is that decorators/designers negotiate "to-the-trade" discounts with retailers or wholesalers. They then buy from the vendor at this discounted price and turn around and retail the item to their client. If they're feeling magnanimous, perhaps they knock 5% - 10% off the price they charge you so there's some perceived value, but most of this override amount stays in their pocket.
At the beginning of my design career, I worked full-time for 5 years as a store's commissioned interior designer. When I subsequently decided to start my own business I determined I REALLY didn't want to continue in the "selling" end of this business. To a point, it's where all the headaches are (especially as I had specialized in custom-designed window treatments and furniture so I'd had my fill with backorders, discontinued stock, delivery delays, etc.)...but, more importantly, I often felt I was in something of an ethical tug-of-war: torn between telling my client what I thought was in THEIR best interest vs. [instead] looking after my boss's bottom line re: Making A Sale. And, further, in my opinion the last thing the world needed then as well as now was one more designer hustling this line of carpets, or that line of furnishings, or lamps, etc.
So-o, I became a renegade...! And setup my interior design consultation business in 1992 deciding to solely charge for my time, take myself out of the purchasing loop other than to provide wholly UNbiased advice, and then pass along to my clients the exclusive trade discounts my profession makes available to me which, indeed, can often save you 10% - 40+% (depending upon the vendor, of course). And the best part is, you're free to shop WHEREVER you like (including online) -- because I'm simply not trying to maneuver anyone into patronizing this store vs. that store, period. In fact, my clients often shop on their own, discover an item, and call to have me arrange a discount on their behalf, often with a merchant I've never dealt with before.
For example, my clients, Connie & Greg from Nevada City, wanted an oversized showpiece area rug for their newly-renovated Victorian. They'd visited a local rug importer following a consult at their home during which we discussed colors, determined appropriate size, as well as reviewed fiber characteristics as this rug was slated for their heavy-use dining area and I always have my eye on issues of function, durability, and cleanability when advising clients about potential purchases. We met at the shop, reviewed rugs, found a real stunner, and I negotiated a 20% discount with the owner right then. So Connie & Greg got an ideal look and quality, they saved a cool $1000 on their splurge-y $5,000 rug, and they only paid me for 30 minutes of my time that day based (which was also @ my discounted shopping rate).
Here are their comments:
"We highly recommend "Sam" Jernigan as an experienced, talented and very professional interior designer! She has helped us choose paint colors, kitchen appliances, living room furniture, fabrics, carpet, future window treatments, and more. She has really listened to what we want to accomplish and has been very helpful in every regard. Sam has a "gift" in working with color! We are delighted with the outcome!
The trade discounts she passed on to us helped pay for her services and made it possible for us to afford the quality of furniture we most wanted. On our living room furniture alone, she saved us 40%! Sam's advice, enthusiasm, thoughtfulness and integrity can be relied upon."

In addition to these types of "on the spot" discounting opportunities I can usually negotiate on my clients' behalf, here are some existing arrangements I have with retailers:

Trade-only flooring showroom in Rancho Cordova (and other locations throughout the U.S.): up to 40% off virtually ANY national brand of carpeting including commercial carpet, wool and nylon runners by the linear foot, and access to high-end and specialty selections not found elsewhere. 20% off tile as well as laminate, cork, bamboo, and wood flooring. This showroom is not open to the public but I can arrange access privileges for you by appointment.
Dal-Tile, 3 showrooms regionally including a mega-sized natural stone showroom in Sacramento - up to 50%

Pottery World - 20% off
Water Street Antiques - 25% off antique furniture -- in Amador Co. but worth the drive, their warehouse is massive and they're direct importers of European furniture
Smith & Noble (national fabricator of custom window coverings) - I'm a member of their trade division so the discounts on their already-discounted lines are even deeper, up to 20% off retail for window coverings as well as fabric window treatments of all sorts. Quick delivery times too. (By the way, I have an extensive background in window treatments so I can eliminate the confusion and help you cut through the clutter of choices "out there" so you can select the most appropriate solutions for covering as well as "dressing" your windows.)

LampsPlus, showrooms and online - 10% - 70% off

Knight's Paint (Benjamin Moore dealer), multiple locations -
appx. 15% off
A variety of online retailers including Wayfair (+ their sister brands), Overstock, and others -- including unique resources you're likely unaware of! - 15% - 40% off

....to name just a FEW!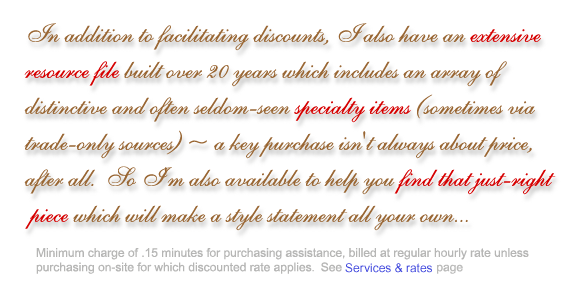 Serving Nevada & Placer counties since 2004
(business founded in Sonoma County, CA)