My design background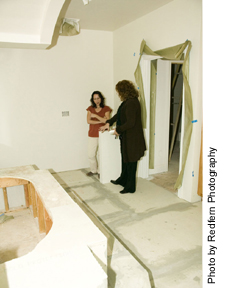 Custom home client, Wendy Browning (left)
with "Sam" Jernigan
Interior Designer, IFDA

transplant to Nevada County (Fall '04), I previously provided interior design services for residents of Sonoma County (and occasionally Napa, and Marin), and originally hail from the Los Angeles area where I acquired my interior design education.

My initial work in the field entailed 5 years full-time as a designer for a family-owned decorating shop located in Petaluma's historic downtown, and I specialized in custom window treatments. This position was followed by employment as a staff designer with a specialty custom furnishings retailer with 3 locations in the Northbay, R.S. Basso.

After all those years working for "the store," I was convinced consumers didn't need another decorator giving them a "sales pitch"...instead, I knew they were eager for fresh and innovative design ideas, and especially practical purchasing advice. This includes the oh-SO-important technical information as I've found most consumers simply don't know which questions should even be asked prior to making what are often sizable investments for their home.

Determined to provide just that, Renaissance Design Consultations was born in the Fall of 1992. In that same year, I qualified for professional membership in the trade organization, the International Furnishing & Design Association (IFDA), which is predicated upon education as well as professional experience combined with recommendations by other trade professionals.
Over the years, my design projects in Sonoma County included:
a fully-furnished model home for MLB Homes for their Sierra Meadows subdivision in Cotati (photo on right)

a fully-furnished circa 1905 VIP guesthouse for Dry Creek Vineyard (premium Healdsburg winery), as well as design services for 4 homes owned by winery management and staff

staging of homes - depending on the state of a current real estate market, homes I staged often sold within a week thereafter (including my own Sonoma County residence in 2004 which sold in 5 days with multiple offers).

While I have access to a distinctive array of furnishings for staging purposes (on a monthly rental basis), I also have an arsenal of budget-y tricks up my designer sleeve and can often work creatively with a homeowner's existing possessions. This sort of lean "mini-staging" is accomplished at my hourly rate and will include recommendations for specific paint colors and/or other quick spruce-up purchases as needed. As a result of my skill in this arena, I also worked on contract with one of the top staging firms in San Francisco (whose A-list clients included San Francisco's then-Mayor -- Governor Gavin Newsom.) DIY staging tips of mine were featured in an article on and I was similarly interviewed for a staging article onplus previoulsy sourced as a home staging expert for (Note: new browser windows will open for links outside this site.)

multiple design and project management services for Sonoma/Marin county's Congresswoman, Rep. Lynn Woolsey

design services for a 10-guestroom B&B, the historic Rio Inn (Russian River)

...as well as interior design consultation for hundreds of residential (and occasionally commercial) clients over the years

I also taught a 4-session decorating course a number of times in Sonoma County (City-sponsored Parks & Rec. Dept.) in addition to conducting consumer seminars and workshops on color trends for my employer's business

I've also been cited as a design expert by journalists for an array of articles appearing in over half a dozen articles on Realtor.com, as well as USA Today, U.S. News & World Report, Redbook, FoxNews.com (three times), BobVila.com, three nationally-syndicated columns in the Chicago Tribune as well as for the National Home Furnishings Assoc., and also in a number of articles on Bed, Bath & Beyond's blog et al.

READ these and other decorating-related articles in the Library...
While I can assist with virtually ANY aspect of interior (or exterior) design and am equally skilled with contemporary as well as traditional interiors and everything in between, I have a longtime specialty of styling historic/vintage homes, including utilizing antiques.
As each individual's "taste" is so unique, I've purposely not provided samples from my design portfolio of projects but am certainly happy to share those with you upon request. Instead, please read what clients say about my work. Creating a home they loved was, after all, my goal...
Design philosophy
Some designers utilize what's called a "signature style," i.e. you can take one look at any completed room of theirs and say, "Oh, I see you had so-'n-so create your space." To me, this one-size-fits all approach seems like they only have one flavor on offer to their clients -- theirs!

By contrast, I strongly subscribe to the belief that your home is indeed YOUR home. So I'm here to help you create a welcoming and livable space that is stamped with your own personal style -- whatever that may be. Quite simply, your home should reflect you - not me. Although I'll certainly be there to help you sort out what is often a nearly overwhelming array of choices in today's home furnishings marketplace. And, truthfully, that's where the value of seasoned expertise comes in.

I welcome working with clients who have Contemporary, Mid-Century, Asian, Scandinavian Modern, or other types of clean & lean style preferences including Boho or Eclectic, however I especially relish the opportunity to work on projects which are vintage-inspired or historical in nature including Cottagecore, Farmhouse, European Country, Shabby Chic, Industrial, and Rustic among others, including Victorian (a number of my clients in Sonoma County had homes featured on a Historic Homes Tour).

LEARN more about my unique policy of "giving away" my to-the-trade discounts to my clients.


Community service: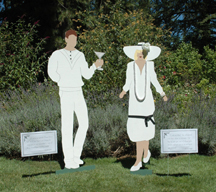 Asked to style the local community hospital foundation's 20th anniversary gala (their primary annual fundraiser) -- Starry, Starry Night, an all-white Gatsby themed dinner/dance which is one of the highest profile social gatherings held annually in Grass Valley.
Click here to see 2 pages of photos including the life-sized collection of vintage-attired silhouettes I designed and fabricated for the event.
* Former Board member, Nevada County Child Advocates
* Former Ambassador, Grass Valley Chamber of Commerce


Member, IFDA (International Furnishings & Design Assoc.)

Member, Nevada County Contractors Assoc.

Here are my ratings by clients on these websites for consumers who each pre-screen their professional members:
NOTE: links will open in new browser windows




Thumbtack


Home Advisor
(formerly Service Magic). Was "promoted" by HomeAdvisor from Top-Rated to this Elite Service designation based on my client ratings.

READ reviews hosted by these services (NOTE: each link will open in a new browser window) plus see what other CLIENTS of mine have said...

Serving Nevada & Placer counties since 2004
(business founded in Sonoma County, CA)