(received this email from a former client in Sonoma County)
"Hello Sam,
You helped my then-husband and me with our family room and living room in Petaluma. I enjoyed those rooms for years and received numerous compliments on the decorating, and your services.
Now-a-days I'm on the verge of purchasing a condo and was hoping you might be able to help me with paint, window coverings, plus layout of my furniture (and guidance on furniture I might be buying). I could send you a scale drawing of the room, and pictures and measurements of the furniture I have.
Let me know if this is a service you can do. I loved working with you before--you brought out the teeny, tiny bit of decorator hidden inside me."
-- Eleanor Haynes, Petaluma (NOTE: I worked on a remote basis for Eleanor as I have with others -- learn more about my E-interior design services")
"After putting 12 different paint samples on our living room walls and realizing none of them were right, we contacted Sam to help us with color choices. This proved to be not only a money saving idea but she also directed us on the right path with our colors. The outcome was just what we were hoping for. The best part of working with Sam is that she really listened to our likes and dislikes to help us achieve an end result we feel comfortable living in and her ideas were innovative and exciting, plus she is great fun! Her help was invaluable."
-- Carol Cowan, Grass Valley
(via email:) "Hi Sam, I LOVE my new house now – thank you!!! Anyone who's been over loves the colors and warm, homey feeling. I'll be sure to recommend you to others. Thanks again!!"
-- Teresa Bria, Lake of the Pines, Auburn
"We highly recommend "Sam" Jernigan as an experienced, talented and very professional interior designer! She has helped us choose paint colors, kitchen appliances, living room furniture, fabrics, carpet, future window treatments, and more. She has really listened to what we want to accomplish and has been very helpful in every regard. Sam has a "gift" in working with color! We are delighted with the outcome!
The trade discounts she passed on to us helped pay for her services and made it possible for us to afford the quality of furniture we most wanted. On our living room furniture alone, she saved us 40%! Sam's advice, enthusiasm, thoughtfulness and integrity can be relied upon." (LEARN more about this unique feature of my business.)
-- Connie Parsons & Greg Archbald, Nevada City
(New owners of one of Broad Street's 1880's Victorians)
"Sam is the "best" to work with. She is very professional, does not waste time, stays on task and is fun and delightful too! She is amazing in that she is equally "left and right-brained", meaning that she is both creative and business-minded; a rare treat! I have shared my experiences of working with Sam from day 1 of the building process with other homeowners and all have replied that they too wish that they had received this type of guidance in the building of their own homes. I feel certain that we have avoided the "big, expensive mistakes" by this process of spatial planning that Sam has taken us through. I know that these have been dollars well spent and will in the long run save us both frustration as well as cash. We are looking forward to the next phase in working with Sam: materials, color, texture, furnishings and decorating. Sam has many "trade only" discounts which we will take advantage of in selecting our floorings, furnishings, etc.
She realizes what an overwhelming task building a home is for a novice (especially having recently completed the design/construction of her own custom home) and she has laid out the process step-by-step for us. As I recently e-mailed her, "Sam, you are INCREDIBLE! Everyone asks if I am tearing my hair out and I am instead finding this process to be a delight and quite easy as both you and my contractor understand not to overwhelm me with too much information at once and I have complete trust in your opinions and guidance. I cannot thank you enough."
-- Nancy Lindberg, Grass Valley
Refencing our 3D space planning/design process for her yet-to-be-constructed home
"Sam was involved with our new home building process. We consulted with her on different aspects of planning ALL the details. She has given us resources and her professional opinion on things such as exterior color/design, lighting placement, fireplace design, scaling issues, kitchen layout, and just plain old guidance and direction. She also helped us select lovely paint colors for our new home's interior and assisted me with all flooring, counter, and shower material selections as well as guidance with cabinetry finishes.
We originally found Renaissance Design Consultations by searching online when we were taking on the task of building a house for the first time. I felt I needed guidance in some areas without feeling like someone was trying to take over our project. When I first talked with Sam I had a good feeling. Once we met and started meeting more often, I felt that I had made the right choice by choosing to work with her and have so appreciated the guidance she has given me during this process.
She has been fabulous to work with. She was available when I needed her, even quick phone calls. She really listened to me and my ideas and concerns. She has great taste and good solutions. She also has a fun sense of humor and is so easy to get along with. Last but not least, she also saved us THOUSANDS of dollars using her trade discounts (paint, soapstone sink, tile) which helped us afford a wonderful level of quality, especially with our carpeting throughout the house -- the 40% discount on that purchase saved us nearly $10,000 alone!" (LEARN more about this unique feature of my business.)
-- Kevin & Christine Kirks, Grass Valley
Previous Sonoma County clients:
"Sam, I need your help again. You are the only one I trust after the GREAT job you did in my L/R + kitchen redo. Do you ever come back to the Bay area to work? I am in need of a little more decorating help and a little push to get started. You are my decorator guru!"
-- Juanita Radford, Petaluma
"You've done it again, Sam....it looks like the carpet was just meant to be. And you can quote me!"
-- Betsy Timm, Santa Rosa
"Sam, you have been so instrumental in helping transform each room in my home over the years and my residence just wouldn't be the charming and colorful place it is today without your valuable assistance. I am simply thrilled with my "new" surroundings and literally couldn't have achieved these wonderful results without your inspired input and creativity! (and I'll NEVER sell!)"
(NOTE: assisted this longtime client with two whole house makeovers about 10 yrs. apart including a recent room addition).
-- Anne Fitzgerald, Santa Rosa
"Dear Sam:
Sorry it's taken me so long to write and tell you how delighted I am with the way my house turned out. A day doesn't go by that I don't enjoy the way my home feels. You took a cold, outdated house and turned it into a warm and wonderful place to be. I get so many compliments on the wallpaper and colors and I know my firends envy my house now. I would not hesitate to recommend you to anyone. Thanks for all your help."
-- Carolyn Souza, Petaluma

"Dear Sam:
As you know, I've recently sold my B&B on the Russian River, the Rio Inn. As I close that professional chapter, just wanted to thank you again for your assistance in transforming a dilapidated (albeit historic!) building back to vibrant life. Guests often commented favorably on their room decor and I personally appreciated your amazing ability to deliver good looking results on my limited start-up budget. Thanks again for your inspired ideas and supportive spirit."
-- Dawson Church, (former Inn owner), Santa Rosa, CA


"Dear Sam:
Sorry it's taken me so long to write and tell you how delighted I am with the way my house turned out. A day doesn't go by that I don't enjoy the way my home feels. You took a cold, outdated house and turned it into a warm and wonderful place to be. I get so many compliments on the wallpaper and colors used and I know my friends envy my house now. I would not hesitate to recommend you to anyone and thanks again for all your help!"
-- Carolyn Souza, Petaluma, CA


(NOTE: handled all design aspects of restoration on a circa 1905 3 bedroom/2 bath residence converted for use as a private VIP guesthouse for this premium Sonoma County winery)
"Dear Sam:
What a thrill to see a rundown wreck of a house transformed into a charming vintage showplace. Our guests constantly compliment us on its warm, friendly feeling. They are delighted with the spark and spunk of surprise touches throughout the house. Such talent you have!
I appreciate the atmosphere you created for us to work together. You offered a huge reserve of ideas and sifted and sorted so we could select with our own preferences. You respected our budget, always getting the best quality for the limits we had set. Your creative ideas stretched our decorating dollars significantly.
You made my role as project coordinator go smoothly. You kept me informed on delivery dates, made preparations for installation and saw each phase completed on time and on budget.
Thank you, Sam. The winery is very proud of the newly re-established "Bullock House."
-- Jean Martin, Hospitality Coordinator
Dry Creek Vineyard, Healdsburg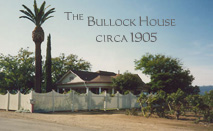 What guests of the Bullock House have said:
The Bullock House is absolutely gorgeous, everything done with extremely good taste. Congratulations! It felt just like my home. Thanks for the hospitality and amenities. Everything is wonderful!"
-- Luiz Oliveira, Hyatt Regency Grand Cypress (5 Diamond Resort)
"Tastefully decorated with pains taken to observe the important details."
-- Granville Harlow, Minnesota "Thank you for a stay at your exquisite guesthouse, Jean. Can I steal some of your decorating ideas?
-- Tom & Kris Pence, Florida "We will always remember staying in the "Bullock House" as a very wonderful, charming experience. The decor and beauty restored is truly outstanding!!!"
-- Leola Smith & Doug Sexton, Tennessee "Bullock House is a beautiful and tasteful restoration."
-- Doug and Barbara Sickers, Michigan
(Picture circa 1990) Designer "Sam" Jernigan with winery owner, Kim Stare Wallace, Healdsburg.
From one of the owners of the winery:
"I have had the opportunity to use the design services of Sam Jernigan (formerly Meyer) several times now; twice for personal residences and once for a guesthouse for our winery.
Sam is one of the most talented and creative interior designers I know. Her work is impeccable. I'm often complimented on the decor of the three homes she designed for me. She pays particular attention to details and is excellent at working within the framework of a budget. She has all kinds of tricks up her sleeve and is great at coming up with ideas that cost little money but give maximum results. Additionally, she is a delight to work with and has a charming personality.
In short, I am a very happy client and would recommend Sam and her work to anyone looking for a top notch interior designer who has the ability to translate her talents into a successful project."
-- Kim Stare Wallace, Vice President
Dry Creek Vineyard, Healdsburg