Professional Design Services
Also READ my national media quotes in the Library.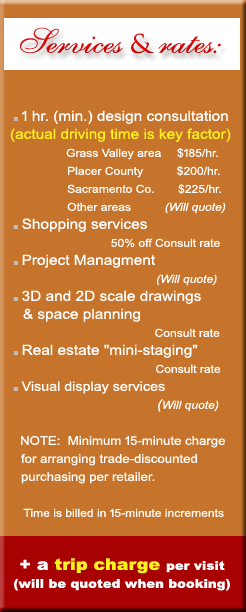 NOTE: 3% credit card & Venmo surcharge applies.
(Zelle bank transfers are free).
Call NOW to schedule your consult:
OR
send email

Overview:

So how does a consult work anyway?
We arrange an appointment at your home (or office if you have a commercial project in mind). Then, prior to the consult, I suggest you take a sheet of paper and begin writing down all your questions -- this way, you won't forget anything you want to discuss during our time together. DO round up any magazine photos, catalogues, etc. of rooms/items you like to assist me in identifying your taste. I also suggest you take notes during the consult to refer back to later as needed.
As we discuss your needs/desires/questions during the consult, I'll not only provide you with an array of ideas and feedback, but I will also explain the underlying design principles involved so you'll understand why I'm making specific suggestions -- this way, the process of designing a room becomes "demystified" for you. I'll also be providing technical product information (as needed) that will aid you in any upcoming purchasing you're planning to do -- i.e. aspects you may not be aware of such as R-value ratings, fiber content, UV protection issues, tensile strength, various manufacturing norms and specifications...and, of course, you'll also come to know why these sorts of considerations can be key in making informed purchasing decisions.
By the way, I selected this domain name, www.RDesignConsultations.com, as no one but a few clever spelling bee winners (or history majors!) can spell "Renaissance." But, you know, I like the fact that it also helps convey the idea of "our" ("R") design consultations...as you and I will have a very collaborative exchange indeed during our time together.

What do you charge? And what will the consultation consist of?
I charge by the hour with a 1-hour minimum and my fee for the vicinity within 20 miles of the Greenhorn region of Grass Valley is $150/hr. Consults for Nevada County outside this radius as well as most areas of Placer County are $175/hr. (other regions by arrangement).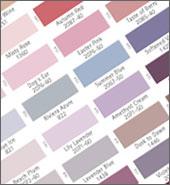 During the consult, we can concentrate on one room, or multiple rooms or spaces inside (or outside) your house -- whatever your decorating questions, I'll work quickly and thoroughly to provide you with the information, advice, and ideas you're needing in order to move forward. The majority of consults are 1 hour in length.
To better facilitate our discussion, I travel with:
an architectural pack of paint colors i.e. over 1600 oversized swatches (Benjamin Moore - a quality brand I strongly recommend and NOT to be confused with the bargain brand, Kelly Moore). These are invaluable for accurately isolating color choices vs. the small strips of color samples supplied by the paint stores. The reality is that your eye makes a value judgment about a given hue when perceived adjacent to the pure white strips separating the various values -- very inaccurate! The large swatches avoid this visual minefield. Any color I suggest from the Benjamin Moore deck can, however, be readily created in any major paint brand.
I also utilize a sketch pad and tape measure
....and can calculate quantities necessary for paint and wallpaper as well as provide fabric calculations and design/hardware/fabrication specs for use by you, your seamstress, or a professional drapery workroom for window treatments and/or upholstery projects (which I can also help source if desired).
I maintain purchasing resources for all sorts of products -- including many unique specialty items (often available online). When suggesting stores/vendors, it is my policy to try and recommend several -- again, I have no professional affiliation and receive no compensation from retailers but, instead, want to facilitate helping you reach your decorating goals.
Occasionally, a client will have a couple of questions arise following a consult -- often once they've been shopping. I'm happy to accommodate a phone consult of this sort and the minimum charge is for fifteen minutes at the standard hourly rate.
As desired, 2D & 3D scale renderings can also be created for you (one wall, a single room...or whole house) to aid in space planning/remodeling/building as well as furniture purchasing and/or placement decisions -- especially helpful for those who have trouble envisioning planned changes/purchases. Learn more about this helpful planning tool which also allows you to test-drive various ideas on paper. Standard hourly charges apply.

What if I need more than one hour?
I'll be happy to oblige although usually it's helpful for scheduling purposes if you indicate this possibility at the time of booking your appointment. Practically speaking, it's my policy to wear a watch to my consults and advise you as the hour is nearing conclusion. This way, if you feel you need more time, I can stay for a while longer (I bill in 15-minute increments)....or....go ahead and just wrap things up -- the choice will be yours. This is my way of demonstrating respect for your time as well as your budget.
Question: Will you shop for me....or with me?
While it's my goal to equip you to shop on your own, I'm nevertheless delighted to shop for you (this is often a time management issue for many of my clients -- they're simply too busy). I'm also happy to accompany you to stores directly. The advantage for you is a savings of time and usually $$ too as it's my policy to pass along any "trade discounts" directly to you (when available) -- often resulting in my services being "no charge" to you once these savings are passed along to you. My expertise will also prevent you from making costly mistakes. LEARN MORE about this unique benefit of working with me....
My charge for in-person purchasing assistance is DISCOUNTED to 50% of my normal rate (see fee chart at the top of this page) which is to offset time involving driving, waiting on sales personnel, etc. For this service, time is charged round trip from downtown Grass Valley.
Online purchasing assistance is also available at the regular hourly rate. Learn more about these e-interior design services.

Will you serve as either a Project Manager or design consultant for an entire remodeling project? Or help me with my new custom home?
The short answer is YES! Especially as it's particularly satisfying for me to work on an entire project from concept thru to completion , and I'm available to work with you as much (or as little) as you choose on any given purchase, room(s), remodel, or new construction project. You'll find that working with a seasoned design professional eliminates the guesswork, streamlines the decision-making process and timeline, and results in a well-conceived and harmonious final look that fully takes into account "form as well as function" -- the hallmark of successful and liveable interior design.
Additionally, your budget will be enhanced vs. taxed by the use of my services as again, you'll be the beneficiary of my 25 yrs. of collective design expertise along with access to professional trade discounts when available.
When working on larger and/or ongoing projects -- especially 2D and 3D scale renderings -- I utilize a project agreement and create a timesheet for logging my design work on your behalf (in 15-minute increments). This facilitates us working remotely via phone and email, which is especially helpful for quick back/forth interactions at key junctures in your project. So once we've had an on-site meeting to review initial 2D/3D renderings prepared for you, subsequent tweaks and alternate versions can simply be emailed to you as a graphic file.
Additionally our project agreement provides you with access to my treasure trove of specialty resources, trade discounts, and contractor referrals, etc.
NOTE: a full range of "e-interior design services" are also available for clients living outside my typical service area. Get in touch for details...

Will you help me with the exterior of my home?
Of course, I'd be delighted. And, in actuality, the same design principles I utilize to guide my recommendations for your interior space will be just as effective for livening up the outside of your home as well so your home can enjoy that all-important "curb appeal" -- whether you're planning on putting your home on the market, OR just want it looking its best and it's time for a bit of freshening (especially important given the invaluable protection paint provides too).
And if you have "trouble envisioning," here are samples of some recent renderings completed for clients using photos of their own home so they could test-drive different paint as well as remodeling options being considered in a realistic way:
| | |
| --- | --- |
| | CLICK to enlarge image (in new browser window) |
| CLICK to enlarge image (in new browser window) | CLICK to enlarge image (in new browser window) |

"This was the second time I hired Sam Jernigan to assist me in remodeling and redecorating.
The first was in 2012 with a Victorian cottage that was going to be a vacation rental. Having no experience with that era I needed help and Sam provided much more than that. She was amazing. And the house turned out completely charming and beautiful.
So, when I was redoing the home I had just purchased after living there for 8 years as a renter, I called Sam again. And once again, she was really wonderful.
She is hugely talented, has a wonderful sense of color and design, comes up with great ideas and suggestions based on the space, the structure, your personal style, and has just an intuitive sense of what will work. I used virtually all of her ideas for this latest project, and can only say that everything she suggested worked so well that I feel like I am living in a completely new house and without major remodeling. The house has been transformed by her strong sense of color and design. In addition, she is a pleasure to work with. And she takes the time to explain her suggestions from a professional design perspective in such a way that they make perfect sense. I would highly recommend her for any project."
-- Marney Craig (property in Marin County)
READ more client comments here and on Houzz...

And here's a "before" & "after" of a nearly 100 yr. old farmhouse in Sonoma County whose exterior renovation I designed in full -- including its cottage garden:

E-interior design services
A full range of remote services are also available for clients living outside my typical service area -- especially ideal for existing clients who have vacation or investment properties located elsewhere (example: the 4-up exterior house renderings above that include courtyard pavers -- these are for a client's residence in Marin County).
Design 4 Me -- sourcing/designing one or more rooms of specifically recommended furnishings & accessories. See example, style: eclectic vintage/contemporary with request for "mostly neutrals with a pop of color" (will open in new browser window -- specific purchasing links are provided via email)
Inspiration boards -- here's one of a pair of boards provided to a recent client, style: rustic/contemporary
2D & 3D space planning -- learn more by visiting this page which details how I work with those who are building or remodeling, all of which can be similarly accomplished via email, photos, Skype/Zoom, private ideabooks on Houzz, and by phone.

Get in touch for details.
Real estate staging services
Whether you're a local Realtor with a listing you're concerned about...OR....a homeowner who realizes you just don't have the time, etc. to deal with sprucing up your home in a cost-effective fashion prior to placing it on the market -- I can help. (By the way, I also staged the home pictured above which sold in 5 days for 20K over the asking price!)
I've staged numerous homes over the years (including furnishing an entire 4 bedroom model home) and previously worked on contract to one of the top staging companies in San Francisco -- in fact, the same firm that successfully staged (then-San Francisco Mayor) Governor Gavin Newsom's own residence for sale.
A unique approah of mine is what I call "mini staging" as I also have an arsenal of budget-y tricks up my designer sleeve and most often work creatively with a homeowner's existing possessions. This sort of lean aproach is accomplished at my hourly rate and will include recommendations for specific paint colors and/or other quick spruce-ups as needed -- including providing recommendations for the all-important curb appeal for your home's exterior.
BTW, if you're planning to move, obtain free quotes from moving companies in your area (+ check out their helpful calculator, it's a great planning tool): www.RealMoving.com.
Visual merchandising services, including design of trade show booths
Will quote pricing including creation of original props. Prior to becoming an interior designer, I worked for 3 years full-time as a visual display artist and was personally responsible for merchandising 15 of the stores for a fashion forward clothing chain (located in Orange County, Los Angeles, and San Diego) along with responsibility for opening new stores of theirs in N. California and Arizona. As the Assistant Supervisor for the display team, I assisted in designing props for the chain's 100+ stores as well as training newly-hired visual display personnel. Additionally, I've designed a number of trade booth exhibits over the years in case you need a hand in that regard.

So, if you're a business owner with a retail space that needs to be designed, or re-imagined, give me a call as I've also worked my merchandising magic featuring a wide array of products for a variety of other businesses (including wineries) over the years. If you'd like, I can also provide an in-service training of your staff equipping them to service the newly-designed displays upon their completion.



Your satisfaction GUARANTEED!
Since establishing my freelance design consulting business in 1992, I've had an almost 100% satisfaction rate with my clients. That said, should you feel at the end of your consult that you haven't received adequate ideas/information as you'd hoped, I certainly wouldn't ask you for payment -- but, it's simply NEVER happened! Instead, smiles and excitement abound as I say my goodbye's and homeowners are visibly relieved, rarin' to go, and (most importantly) are then ably equipped and now-savvy consumers ready to hit the stores -- or tackle their DIY projects.

Oh, by the way, husbands particularly love my work as, it bears repeating, my services are ultimately designed to SAVE you

Serving Nevada & Placer counties since 2004
(business founded in Sonoma County, CA)